Latest news for Northern Territory
---
More new tutors means more courses can be offered
19th Sep 2020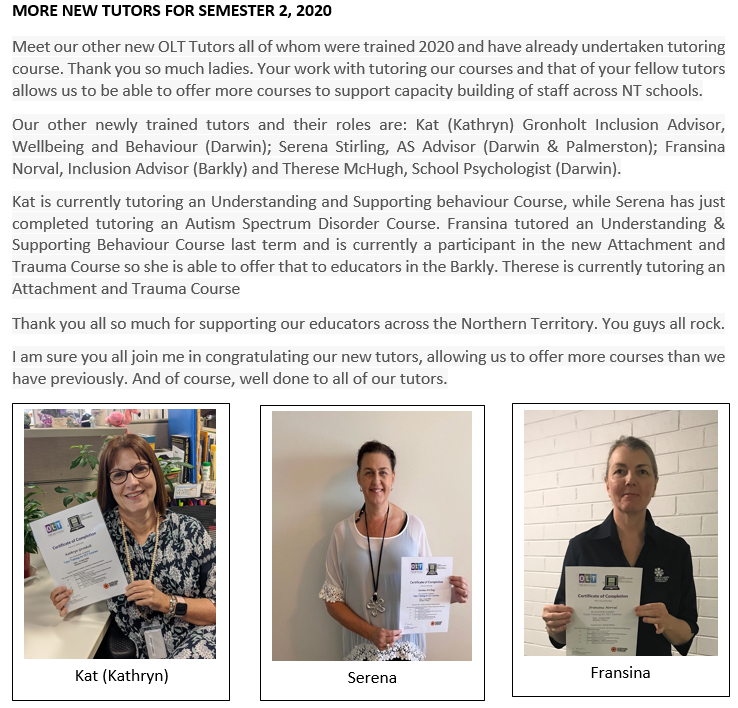 ---
Old news
Welcome New Team Member
31/08/2020 13:19:08
Welcome Saisha Khanna. Saisha is based in our Alice Springs Office and is doing a wonderful job of supporting our new and experienced tutors as well as tutoring cohorts herself. Saisha comes to our team with lots of knowledge and experience and we look forward to working with her this semester.
Our Team currently has two Consultants Inclusive Practice, Saisha Khanna in Alice Springs and Wendy Pelizzo in Darwin, as well as Charlotte Pitts as Admin support. Lyndsay Schinkel is currently on Long Service Leave and hear she is have a wonderful time.
Our Team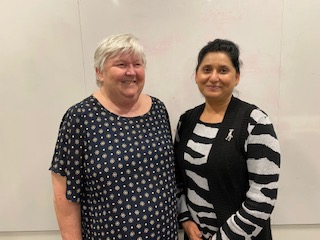 Wendy Pelizzo and Saisha Khanna
...
Three Cheers for our New Tutors
31/08/2020 13:08:49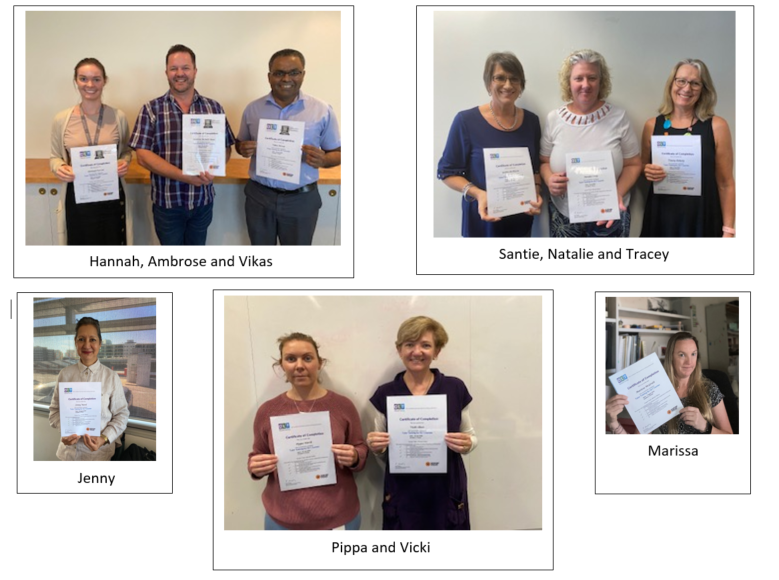 NEW TUTORS FOR SEMESTER 2, 2020
Meet our newest OLT Tutors who were trained during Stand Down and early in Term 3, 2020. By now, most of you will have met your respective Tutors, either virtually or Face to Face. They work really hard to make your OLT learning experience memorable and we hope that you feel inspired to do a few more OLT courses in Semester 1, 2021. Our OLT Tutors each have other demands within their various workloads (including travel for some and school-based activities for others) we appreciate the time and effort they commit to facilitating cohorts. We owe them a MASSIVE 'thank you'! Without our Tutors, we would not be able to offer so many cohorts and such varied topics.
The new tutors trained in the July Stand Down and their roles are: Ambrose Nicholls-Skene, Music & Media Teacher, Dripstone Middle School; Hannah Perrot, School Psychologist, Mitchell Centre Darwin; Vikas Pawar, School Counsellor, Goyder Centre, Palmerston and Melanie Moore, Education Advisor, Catholic Education, Darwin. Ambrose is currently tutoring and ASD Course, Hannah an Attachment and Trauma Course and both Vikas and Melanie are tutoring Wellbeing and Mental Health Courses.
The following week, a further three tutors were trained and one tutor completed a Refresher Course. This training saw Natalie Crisp, Education Advisor - Framework for Inclusion, Darwin; Tracey Kensey, Early Childhood Intervention (ECI) Advisor, Palmerston; Jacinta Kirkpatrick Early Childhood Intervention (ECI) & Inclusion Advisor, Darwin. Santie Du Plessis, School Psychologist, Palmerston completed the Tutor Refresher Course. Nat, Tracey, Santie and Jacinta are all tutoring Attachment and Trauma Courses.
Two new tutors were trained in Alice Springs in Week 1, Term 3. These tutors and their roles are: Pippa North – Senior Teacher, Positive Learning Centre (PLC) Alice and Vicki Skoss, Early Childhood Intervention (ECI) Advisor, Southern Region. Pippa is tutoring one of our new Attachment and Trauma Courses, while Vicki is tutoring a Speech Language and Communication Course. Marissa McGrath, School Psychologist in Tennant Creek was also trained as a Tutor in Week 3, Term 3 and is tutoring an Attachment and Trauma Course with an Alice Springs School Cohort.
Jenny Ward, Manager, Positive Learning Centres, Senior Psychologist was trained as a new tutor in August and is currently tutoring an Attachment and Trauma Course.
I am sure you all join me in congratulating our new tutors, allowing us to offer more courses than we have previously. Well done everyone.
...