Latest news for Northern Territory Government - Department of Education
---
Register NOW for courses starting in Semester 2, 2021
4th May 2021
Register NOW for courses starting in Semester 2, 2021 and registrations close 28th May.
The ten courses available across all regions are:
Attachment and Trauma

Attention Deficit/Hyperactivity Disorder

Autism Spectrum Disorders

Dyslexia and Significant Difficulties in Reading

Special Education Needs (showcasing some of our remote and urban NT schools)

Personalised Learning

Speech, Language & Communication Needs

Understanding and Supporting Behaviour

Understanding Hearing Loss

Wellbeing and Mental Health
Places are limited. Course registrations for all Online Training courses starting in Semester 2, Term 3, 2021 will close on Friday 28th May (end of Week 6).
Interested? Download the Registration Form from iSupport complete, sign, scan and email to SpecEdProject.DET@education.nt.gov.au
We encourage schools to do courses together to cement the learning and take on a whole school approach. Groups of more than seven from the same school registering for the same course can contact us for further information at SpecEdProject.DET@nt.gov.au or 8944 9445 to discuss tailoring course delivery to your specific needs.
---
Old news
INTRODUCING OUR NEW TUTORS FOR SEMESTER 1, 2021
30/04/2021 17:55:11
This semester is just over half way through and we need to introduce you to our new tutors this semester. While we know you have already met your tutors, we would like to acknowledge the hard work they have done to get there. All new tutors have had to attend a one day training to become a tutor and then work together with another tutor to deliver your course Face to Face Sessions and respond to your forum posts.
All of this work is done while they maintain their existing role as either support staff, classroom teacher or advisor, so let's all say a big thank you to them for the dedication to supporting educators to help our students achieve to the best of their ability.
The new tutors trained this year are: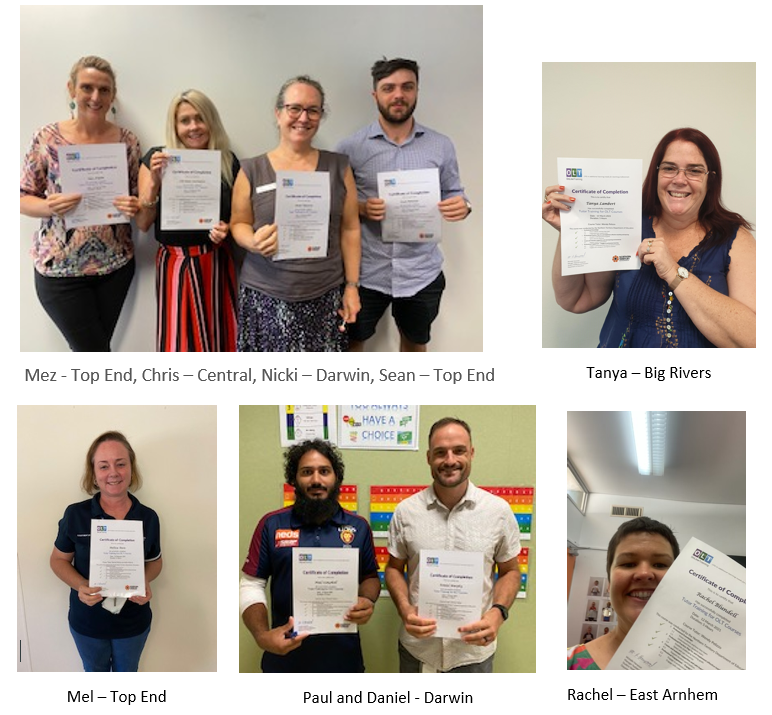 We are sure you will all join us in congratulating our new tutors, allowing us to offer a variety of courses.
A big shout out to all of our current tutors as well. Your professionalism and hoard work is very much appreciated.
Thanks and cheers to a wonderful semester of tutoring.
Wendy and Saisha
...